PayPal and Credit Card Billing
The Guest Internet hotspot gateway allows you to create a WiFi hotspot where guests can pay to use the Internet either with their PayPal™ account or any credit or debit card.
When charging your guests you can set up to 9 different price levels, set by time limit, data limit, bandwidth limit or no limit.
PayPal™ and credit card billing is easy to set up, all you need is a PayPal™ business account. There are no set up or monthly fees. PayPal™ does charge a commission of 3% per transaction, this is no different to what banks charge for credit card processing.
The hotspot gateway provides instant access to usage reports as well as email notifications about credit card payments. Daily reports can also be delivered by email.
The Guest Internet hotspot gateway is a stand-alone system, no server is required for billing or data storage. Personal and payment details are delivered from the guest's browser directly to PayPal using SSL, the details are not stored or handled by the gateway.
Product Range
Internet Hotspot usage with PayPal™
When a guest tries to connect to the Internet they are directed to the customized login page, the guest has the choice of:
Entering an existing login code
Click on Purchase token with PayPal™
The Login Page also displays the terms and conditions of the hotspot. The guest must agree to the terms to use the Internet.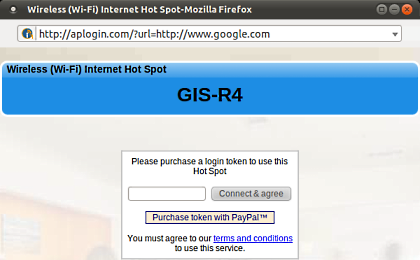 If the guest selects PayPal™, he is presented with a list of prices and access times to choose from.
The guest is informed that PayPal™ and Credit Card payments can be made with or without a PayPal™ account.

Once the guest selects a price he is forwarded to the PayPal™ payment gateway. The gateway will allow a guest with a PayPal™ account to log in or ask for Credit Card and payment details.
At this point the transaction is secure (using SSL) and purely between the guest's browser and PayPal™'s servers.
No personal or Credit Card data is handled by or stored on the GIS unit.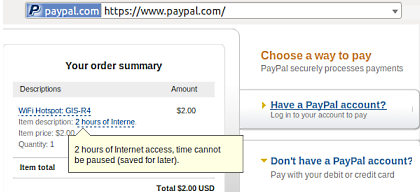 If the transaction completes successfully, the guest is forwarded back to the gateway and a login code is provided together with a login button.
A copy of the code will be emailed to the guest and an email detailing the transaction sent to both the guest and the hotspot owner.

Product Range